IChemE gives first level 3 apprentice...
IChemE gives first level 3 apprenticeship qualification stamp of approval to Reynolds Training Services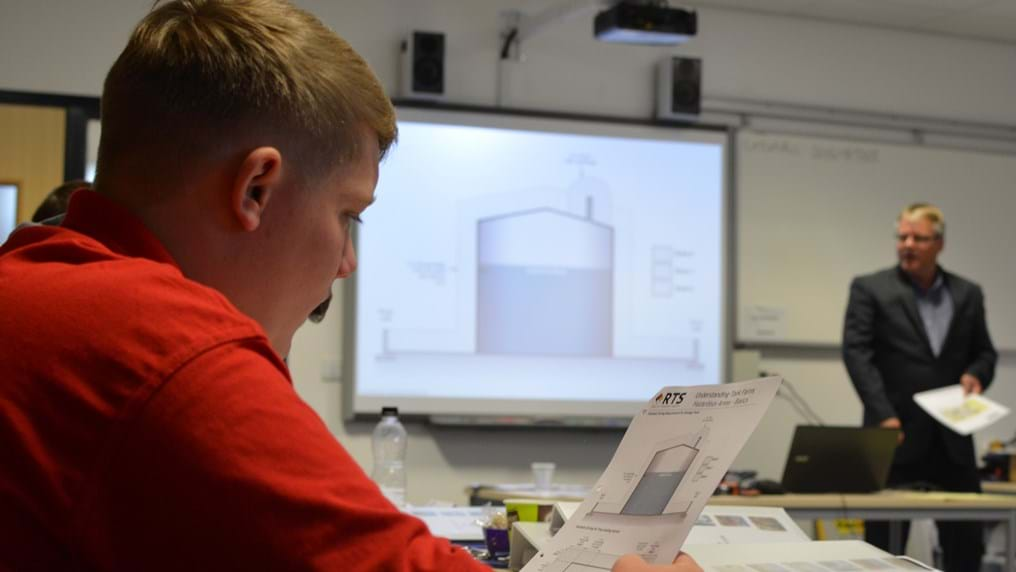 4th August 2020
High hazards training provider Reynolds Training Services has had its qualification approved by the Institution of Chemical Engineers (IChemE) - the first level 3 diploma to be approved by IChemE.
Approval has been awarded for Reynolds Training Services' new Bulk Storage Operator Technician level 3 diploma, which is part of a two-year apprenticeship offering a wider focus on process and occupational safety, human factors and emergency response, aligning these elements with technical operations. The programme is a mix of vocational and academic learning delivered in conjunction with HETA (Humberside Engineering Training Association) at Reynolds Training Services', which is based at the CATCH Training facility in Stallingborough, UK.
An apprenticeship is made up of a qualification and a programme of vocational experience. IChemE is licensed by the Engineering Council to approve either or both of these parts for colleges and training providers delivering an engineering apprenticeship. Having this level 3 qualification approved by IChemE provides a new route to technical recognition for the sector, where apprentices can work towards gaining the professional Engineering Technician (EngTech) qualification. 
The IChemE assessors commended Reynolds Training Services for their outstanding simulation facility of a full-scale tank farm that offers a realistic, professional environment and which provides trainee engineers ample work-based experience in real-world problem-solving and risk assessment for major accident hazards. The assessors also praised the course leaders for teaching the process safety fundamentals at an exceptionally high standard.
Bill Harper, who volunteers as part of IChemE's qualifications activities and lead the assessment of the programme, said:
"As we look to widen our offering and enable more flexible pathways to professional qualification, we at IChemE are committed to support our colleagues in industry in developing apprenticeship frameworks to enhance the skills pipeline.
"It is hugely encouraging to see the trainees are highly committed to the profession and acting as ambassadors for the programme, inspiring others to consider this as a pathway to professional qualification.
"Congratulations to Reynolds Training Services for being the first, of hopefully many, level 3 qualifications given approval by IChemE in recognition of their high standards that enables a route to technical qualification."
John Reynolds, Managing Director of Reynolds Training Services, said:
"As a technical qualification, it signposts a career journey through IChemE's engineering technician process. From managerial, safety engineering, maintenance and beyond, it empowers people to broaden their career horizons, advance their skills and, crucially, keep those all-important skills within the sector.
"As a business, it's an incredibly proud moment for us. To be the first health and safety provider to achieve this award is an honour."
Peter Davidson, Executive Director of the Tank Storage Association, said: 
"The bulk liquid storage sector is and will continue to be an important source of career opportunities. With a new wave of innovation and extensive demand for skilled and qualified specialists, we are delighted that this level 3 qualification that is embedded into the sector leading apprenticeship programme has received IChemE recognition, a testament to Reynolds Training Services's commitment to the development of the next generation of talent in the UK."  
Any company with a similar level 3 chemical engineering-related apprenticeship that is considering applying for approval, should email Steven Gasser, Associate Director of Regions at IChemE, via sgasser@icheme.org
Links
IChemE Engineering Technician (EngTech) qualification
Reynolds Training Services – Bulk Storage Operator Technician Level 3 apprenticeship
Contact
For more information please contact:
Rachael Fraser, Communications Executive, IChemE
t: +44 (0) 1788 534435
e: rfraser@icheme.org
Ketna Mistry, Communications Executive, IChemE
t: +44 (0) 1788 534484
e: kmistry@icheme.org
What is chemical engineering?
Chemical, biochemical and process engineering is the application of science, maths and economics in the process of turning raw materials into everyday, and more specialist, products. Professional chemical engineers design, construct and manage process operations all over the world. Oil and gas, pharmaceuticals, food and drink, synthetic fibres and clean drinking water are just some of the products where chemical engineering plays a central role.
IChemE
The Institution of Chemical Engineers (IChemE) advances chemical engineering's contribution worldwide for the benefit of society. We support the development of chemical engineering professionals and provide connections to a powerful network of around 35,000 members in 100 countries.
We support our members in applying their expertise and experience to make an influential contribution to solving major global challenges, and are the only organisation to award Chartered Chemical Engineer status and Professional Process Safety Engineer registration.
More information: www.icheme.org
Reynolds Training Services
Reynolds Training Services are the leading provider of training, competence assessment and management for the bulk liquid and gas sector, accredited by leading awarding bodies including NEBOSH, IOSH and GQA, delivering to the high hazard industry both nationally and internationally at site or from our world class training facilities located in the heart of Lincolnshire.

More information: www.reynoldstraining.com
The Tank Storage Association
The Tank Storage Association (TSA) represents the interests of over 60 member companies engaged in the storage of bulk liquids and the provision of products and services to the sector. Collectively, its members operate 293 terminals and distribution hubs in the UK and have over 10 million cubic metres of storage capacity in the United Kingdom and Republic of Ireland. TSA's members provide and support an essential interface between sea, road, rail and pipeline logistics for many different substances including transport and heating fuels, chemicals, animal feed and foodstuffs.
More information: www.tankstorage.org.uk