New IChemE President focusses on ethi...
New IChemE President focusses on ethics, respect and inclusivity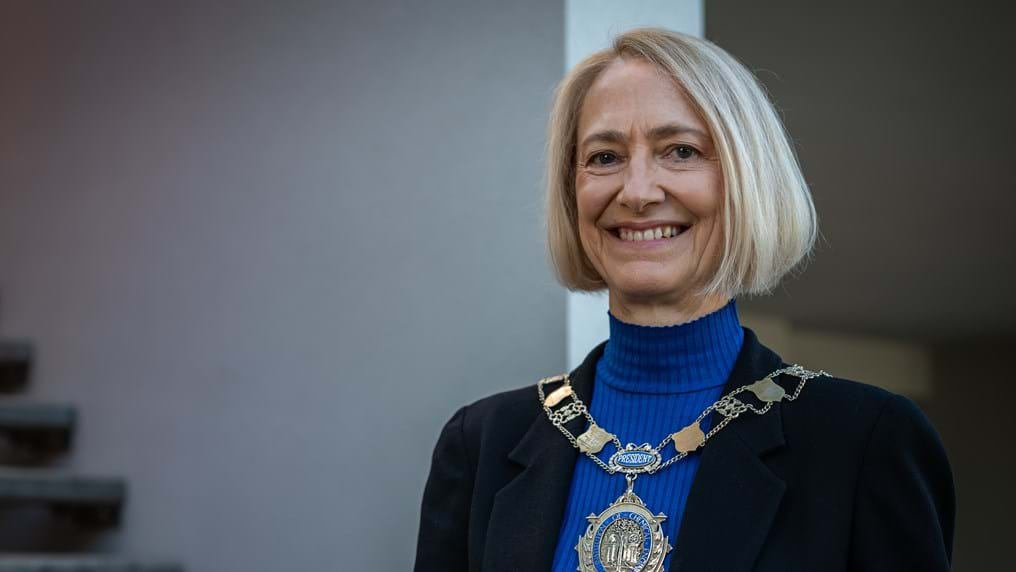 15th June 2021
Jane Cutler FIChemE has been appointed as the 80th President of the Institution of Chemical Engineers (IChemE). Cutler's Presidential Address was delivered today (15 June) from the University of Western Australia in Perth with members and chemical engineering students present. Many other members and invited guests watched the Address live online.  
Currently an independent Non-Executive Director with the Southern Ports Authority and ChemCentre Western Australia, Jane was elected last year by the membership to take up the position of President of the Institution from June 2021. The formal handover of the Presidency was given by the 79th President, Stephen Richardson, during the Institution's Annual General Meeting held on 14 June.  
Entitled IChemE: Relevant in a Changing World, the Presidential Address focused on the need for chemical engineers to adapt and respond to the opportunities and challenges presented by our changing world. As IChemE approaches its 100 year anniversary, Cutler pledged to build on the work of her predecessors to ensure the Institution delivers Strategy 2024 and remains relevant, contemporary and aligned with its Royal Charter.  
Declaring three elements of the Strategy on which she will focus during her Presidency, namely ethics, respect and inclusivity, Cutler said:  
"How we work is important. Working better together is essential. Our development as engineers and technicians includes a strong focus on technical competence, and while ethical issues are increasingly discussed during education and training, there is scope for more discussion, at all points of our professional journey, around judgement, ethical decision-making, dealing with uncertainty and how we engage with society." 
Noting the shift in expectations for chemical engineers to contribute to the United Nations Sustainable Development Goals, in particular helping to tackle climate change, Cutler spoke about the need to expand thinking beyond the immediate business cases for emissions reduction and enable members to develop the skills necessary to consider and contribute to sustainability. 
Cutler added: 
"We must recognise our contribution to society, continue to be a leading voice in process safety and offer more support to provide skills and knowledge to equip members to help contribute to the challenges of climate change and sustainability so that IChemE remains relevant." 
Addressing the importance of IChemE membership and Chartered status, Cutler said:   
"Expectations of Governments and communities for professionals to have and adhere to professional standards are increasing. IChemE's role as the internationally recognised qualifying body and learned society for chemical, biochemical and process engineers is more important than ever. 
"Those who join a professional body and submit themselves for professional competence assessment by their peers, and subject themselves to a code of ethical conduct, are setting themselves apart. 
"In summary, any person can say that they are an engineer, but only professionals go the extra mile and make a public commitment to uphold professional standards of competence and ethical conduct." 
During her address, Jane reflected on her varied career which began with a chemical and materials engineering degree from Auckland University. She has had more than 30 years' experience working across public, commercial and not-for-profit sectors, spanning diverse industries including resources, oil and gas, financial services, maritime, environment and technology.  
Commenting on her ambition for IChemE during her 12-month tenure as President, Jane referred to the Institution's upcoming centenary in 2022 and the need to reflect on the lessons learned from the last 100 years as we look forward to the next century. 
The 2021 Presidential Address was live-streamed via IChemE's YouTube channel and a recording is available to view.  
Links
2021 Presidential Address recording
Contact
For more information please contact:  
Lucy Cook, Communications Manager, IChemE 
t: +44 (0) 1788 534454 
e: lcook@icheme.org 
Rachael Fraser, Communications Executive, IChemE 
t: +44 (0) 1788 534435 
e: rfraser@icheme.org 
Ketna Mistry, Communications Executive, IChemE 
t: +44 (0) 1788 534484 
e: kmistry@icheme.org 
What is chemical engineering?
Chemical, biochemical and process engineering is the application of science, mathematics and economics in the process of turning raw materials into everyday, and more specialist, products. Professional chemical engineers design, construct and manage process operations all over the world. Oil and gas, pharmaceuticals, food and drink, synthetic fibres and clean drinking water are just some of the products where chemical engineering plays a central role. 
IChemE
The Institution of Chemical Engineers (IChemE) advances chemical engineering's contribution worldwide for the benefit of society. We support the development of chemical engineering professionals and provide connections to a powerful network of over 33,000 members in more than 100 countries. 
We support our members in applying their expertise and experience to make an influential contribution to solving major global challenges, and are the only organisation permitted to award Chartered Chemical Engineer status and Professional Process Safety Engineer registration.