IChemE-UM SC visited Sime Darby Plant...
Palm Oil Processing
IChemE-UM SC visited Sime Darby Plantation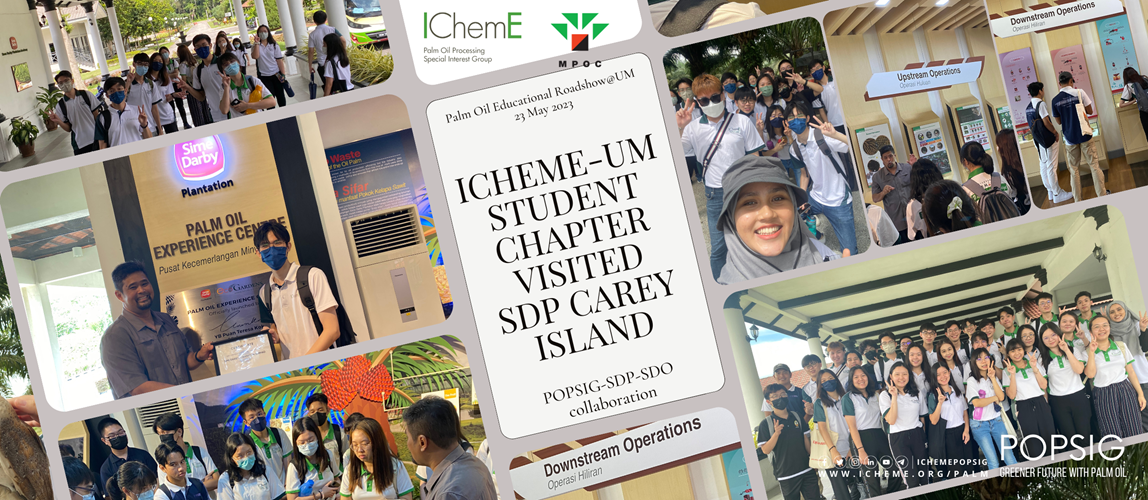 23rd May 2023
Overview
On 23 May 2023, a group of IChemE-Universiti Malaya Student Chapter (IChemE-UM SC) visited the Sime Darby Plantation Centre of Sustainability, Palm Oil Experience Centre and Sime Darby Plantation Academy in Carey Island from 10:00am to 1:00pm MYT. The event recorded 30 participants.
The tour was led by Mr Irwan Ramlee Amran Lee at Sime Darby Plantation Berhad (SDP). He introduced to the visitors about the palm oil value chain, upstream and downstream operations.
SDP was established in Singapore in 1821. Today, SDP is the world's largest producer of certified sustainable palm oil, and is present in over 90 countries. They are leaders in innovation. SDP upstream and downstream operations are fully integrated, allowing SDP to maximise efficiencies, creating better value for all their stakeholders.
Learning outcomes
The participants observed the 3D modeling and visual environment of Sime Darby Plantation Centre of Sustainability in Carey Island. Besides, a brief introduction regarding the oil palm tree was given by Mr Irwan. The participants were also amazed that the plantation was spread to 13 countries, including China, Singapore, South Africa and so forth with more than 740,000 hectares landbank. The group observed the procedures on harvesting and collecting the oil palm brunch.
The IChemE-UM SC group was presented with a film demo on using the palm oil in a cooking competition which was held by Sime Darby Plantation. The overall benefits and advantages of palm oil were introduced such as the fact that the palm oil is rich in vitamins and contains no trans fat. They were also exposed to the upstream operation like seed plantation, brunch formation, harvesting process of palm oil as well as the downstream operation such as production and usage of palm oil in various fields.
At the SDP museum, the participants learned about the history of palm oil in Malaysia including the origin of palm oil and the year when the oil palm trees were introduced in Malaysia. Moreover, a fascinating collection was showcased in the museum, including vintage items such as typewriters and microscopes. The visitors had the opportunity to explore the rich history of Sime Darby while gaining a deeper appreciation for the technological advancement in the palm oil industry.
Image
President Saw Xukai of IChemE-UM SC presented a Token of Appreciation to the tour leader Mr Irwan Ramlee Amran Lee (SDP). The photo was taken at Sime Darby Plantation Palm Oil Experience Centre. The participants visited Sime Darby Plantation Centre of Sustainability, Palm Oil Experience Centre and Sime Darby Plantation Academy.
Acknowledgement
POPSIG gratefully acknowledges the support provided by Malaysian Palm Oil Council (MPOC) to POPSIG-MPOC Palm Oil Educational Roadshow. POPSIG gratefully appreciated Sime Darby Plantation Berhad for hosting the visit.
POPSIG has collaborated with MPOC on Palm Oil Educational Roadshow since 2019. MPOC is a corporate body with a mission to promote the market expansion of Malaysian palm oil and its product by enhancing the image of palm oil and creating better acceptance through awareness of various technological and economic advantages (techno-economic advantages) and environmental sustainability.
POPSIG also gratefully acknowledges the support provided by Desmet Malaysia Sdn Bhd, Kuala Lumpur-Kepong Oleomas Sdn Bhd (KLK OLEO) and Malaysian Oleochemical Manufacturers Group (MOMG) to our activities.
---
Back to group news