Palm Oil Processing
UPM-ChESS visited MPOB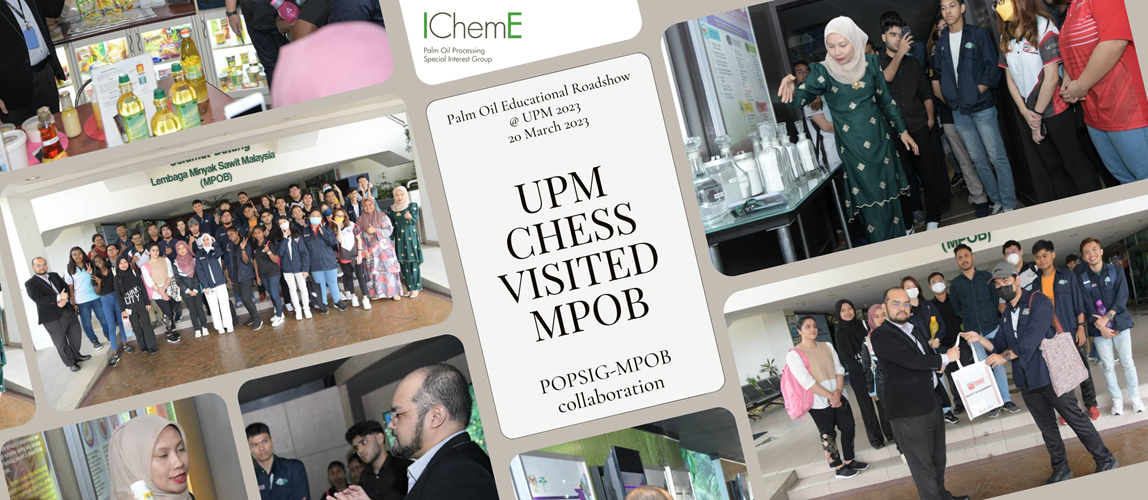 20th March 2023
Summary
On 20 March 2023, a group of UPM Chemical Engineering Student Society (UPM-ChESS) visited Malaysian Palm Oil Board (MPOB) in Bandar Baru Bangi, Selangor from 9:30am to 11:00am MYT under POPSIG-MPOB technical collaboration. The event recorded 35 participants.
During the visit, Ms Asliza Semiran gave the visitors a tour of the palm oil gallery. Ms Asliza introduced the history of the palm oil industry in Malaysia. The gallery was occupied with the replica and instruments used to get palm oil starting from forest cleaning to planting the seed until harvesting the crop. The visitors observed the real instruments used by the ancestor which were displayed in the gallery.
The visitors experienced sensory learning to touch and smell the crude before and after it went through the refinery process from crude oil (CPO) to palm fatty acid distillate (PFAD) to RBD palm oil (RPO) to RBD palm stearin (RPS) until the effluent RBD palm olein (RPOL) was produced.
Through video animation, the students understood the values of the oil palm tree in the daily life as value-added products. The tour demonstrated that the palm oil industry implemented zero-waste management.
The participants were informed about the marketing strategies in the palm oil industry as palm oil needs to compete with other cooking oil including canola and sunflower oil which are well-known in the non-Asian market. The data on the exported palm oil to other countries across the globe were also analysed during the visit.
Throughout the visit, the students showed their interest in the palm oil industry and grabbed the opportunity to ask questions in order to enhance their understanding of the palm oil industry.
Image
Group photo at MPOB. The student representative presented a Token of Appreciation to MPOB tour leader.
Acknowledgement
POPSIG gratefully acknowledges the support provided by Malaysian Palm Oil Council (MPOC) to POPSIG-MPOC Palm Oil Educational Roadshow. POPSIG gratefully appreciated the collaboration on the gallery visit with Malaysian Palm Oil Board (MPOB).
---
Back to group news