UPM-ChESS visited Sime Darby Plantati...
Palm Oil Processing
UPM-ChESS visited Sime Darby Plantation Centre of Sustainability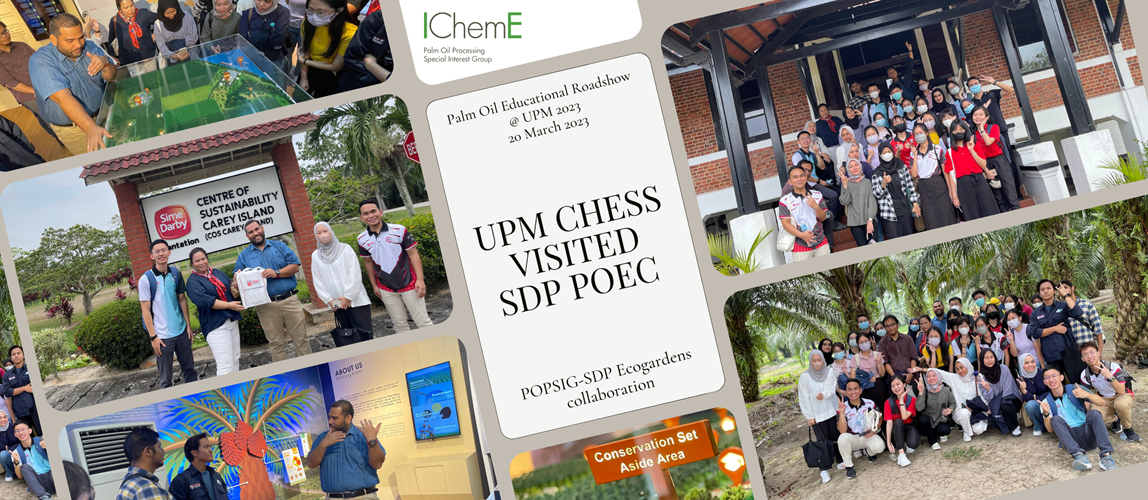 20th March 2023
Summary
On 20 March 2023, a group of UPM Chemical Engineering Student Society (UPM-ChESS) visited the Sime Darby Plantation Palm Oil Experience Centre, Centre of Sustainability in Carey Island from 10:00am to 1:00pm MYT. The event recorded 30 participants.
The group was joined by Yang Berbahagia Associate Professor Datin Ir Dr Siti Aslina Hussain (Associate Professor at UPM), Associate Professor Dr Norhafizah binti Abdullah (Associate Professor at UPM) and Dr Mohamad Syazarudin bin Mohd Said (Senior Lecturer at UPM). The tour was led by Mr Ezzaruddin Abdul Rapar from Sime Darby Plantation.
During the visit, the students learned that it is important to choose the appropriate cooking oil for different type of food. Palm oil has a high burning point and is ideal for deep frying. The group learned that oil palm is unique because it is classified as monoecious, bearing both male and female inflorescences on the same palm in different but overlapping cycles. The oil palm is considered ripe and ready for harvesting when the fruits turn red and have around 10 fruit drops.
The students were also impressed to see the rapid evolution of technology in the palm oil industry, such as the use of crane grabbers to increase efficiency and maximize yield. Overall, it was a fruitful and beneficial experience to the group of visitors.
Image
Associate Professor Dr. Norhafizah binti Abdullah presented a Token of Appreciation to the tour leader Mr Ezzaruddin Abdul Rapar (SDP). The presentation was joined by Yang Berbahagia Associate Professor Datin Ir Dr Siti Aslina Hussain.
Acknowledgement
POPSIG gratefully acknowledges the support provided by Malaysian Palm Oil Council (MPOC) to POPSIG-MPOC Palm Oil Educational Roadshow. POPSIG gratefully appreciated the event organisation by Sime Darby Plantation Ecogardens Sdn Bhd.
---
Back to group news