Governance and operations
Governance and operations
IChemE continued its activities to strengthen the Institution's governance and operational model.
61 members from across the world joined IChemE's virtual Annual General Meeting in June, 55 of whom were voting members. Following an election, a new Ordinary Member (regional) was elected to the Board of Trustees with a new Deputy President and Honorary Treasurer standing uncontested. Two new members were elected as Early Career representatives on Congress, the advisory body to the Board of Trustees plus seven Congress candidates who stood uncontested.
David Bogle was inaugurated as the 81st President of the Institution, delivering his Presidential Address from Savoy Place, London, UK, only 100 metres from the site where IChemE's first meeting took place 100 years ago.
An audience of around 100 members, trustees and invited guests were physically present with many more watching the Address live online.
Entitled Chemical Engineering: An Ethical Profession, the Address focused on the need to ensure that ethical thinking is placed at the forefront of chemical engineering professionalism and education, as safety and sustainability have been in recent years.
Bogle commented that safety and sustainability are parts of the ethical code that chemical engineers must all aspire to and for which the next generation must be trained. To view photos of the event, please visit the Presidential Address album on Flickr.
A new 35-day election process was rolled out for special interest groups and member groups to create greater objectivity and transparency around officer elections.
After six years at the helm of IChemE, Jon Prichard stepped down from his role
Jon Prichard, Chief Executive, stepped down from his role in September to take up a new appointment at another organisation. On announcing his departure, Prichard thanked all members, volunteers, staff and his peers for their continual support in advancing the contribution of chemical engineering. Jo Downham, Director, Finance and Business Support, was appointed Interim Chief Executive whilst the Institution recruited a successor. Yvonne Baker, a Chartered Chemical Engineer and Chief Executive of STEM Learning was appointed as IChemE's new Chief Executive Officer and will take up the post from April 2023.
The Institution has continued to extend the scope of the ISO:9001 quality management system with the HR, Governance, Membership, Qualifications, Learned Society Knowledge and Finance departments coming on board in 2022. Documenting these additional quality management systems provides the framework for continuous improvement to meet the needs and expectations of members and interested parties. IChemE remains committed to the ISO9001:2015 standard aiming to gain certification across the organisation in 2023.
During 2022, IChemE commenced and delivered a new digital logged-in area for members and non-members to pay subscriptions, update contact details and join a member group. This exciting new platform is part of the Institution's commitment to improving the digital experience.
As part of a series of subscription-related improvements that have taken place since 2017, a revised approach to international rate allocation came into effect in 2022 with IChemE now recognising three subscription tiers based on World Bank data. The new subscription model ensures an equitable approach to membership subscriptions wherever our members reside.
To enable knowledge sharing and networking between members groups and special interest groups, Microsoft SharePoint sites were rolled out across several geographic regions.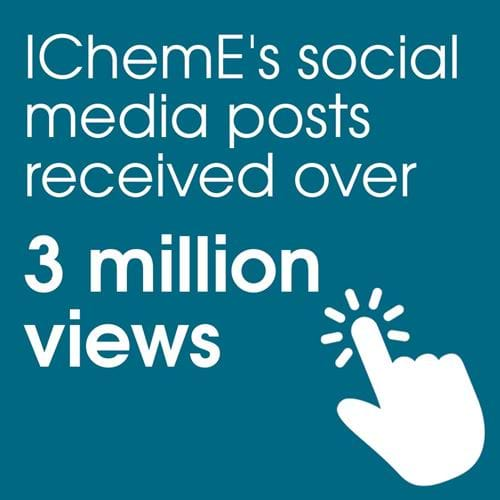 Sharing knowledge via the Institution's social media platforms, including LinkedIn, Twitter, Facebook and Instagram, led to IChemE's posts being seen over 3.1 million times as well as nearly 70,000 views of YouTube video content and nearly 80,000 views of the blogsite.
The Institution also took part in World Engineering Day which was introduced to celebrate the contribution of the world's engineers for a better, sustainable world, with IChemE-produced videos being aired as part of the 24-hour live broadcast.
Successful off-site team building events were held for the first time since the pandemic
Staff continue to work in a hybrid pattern, with a review of the UK offices planned for 2023. Successful off-site team building events were held in June for all regional offices, the first time this has happened since the pandemic. To support the ongoing development of managers across the organisation, focusing on leadership skills, knowledge and efficiency, the monthly Managers Masterclass training programme continued throughout the year. Staff wellbeing remained a priority with resources shared and campaigns rolled out to all staff. This included a campaign where the trained mental health first aiders shared their own stories with staff via an internal blog series.
A series of internal engagement campaigns were instigated throughout the year including 'Walking the Centenary' to encourage physical activity, a holiday photo competition and the Sustainability Festival. With sustainability being an important external focus for IChemE, this internal campaign aimed to engage staff on the topic providing events and opportunities for colleagues to find out how they could contribute to this priority area. A new internal newsletter, 'The Update' was launched to communicate key updates to staff with research showing good engagement levels with the newsletter and the Intranet.