IChemE Student Chapter Festival 2023
Palm Oil Processing
IChemE Student Chapter Festival 2023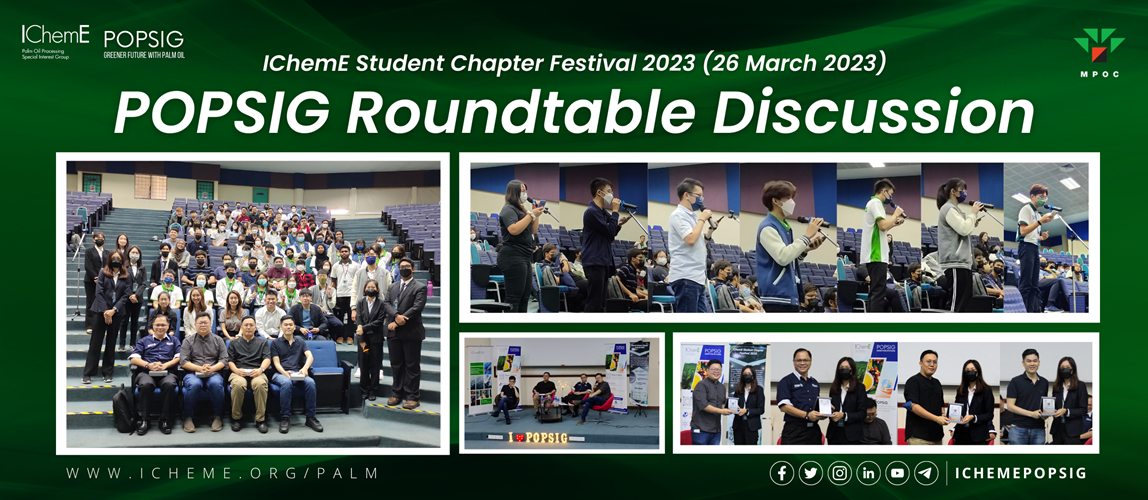 3rd April 2023
Overview
IChemE Student Chapter Festival 2023 was organised by IChemE-UM Student Chapter, in collaboration with IChemE-UCSI Student Chapter. The event was supported by IChemE's Palm Oil Processing Special Interest Group (POPSIG), in conjunction with Malaysian Palm Oil Council (MPOC). Day 1 was held in Auditorium 1, Block U, Faculty of Engineering in Universiti Malaya.
Objectives
IChemE Student Chapter Festival
To foster a strong connection between IChemE Student Chapters and with industrial companies.

To understand the processing and manufacturing industry.

To expose participants towards the tasks and responsibilities of a chemical engineer.

To be a platform of exchanging knowledge, ideas and experiences among participants.
POPSIG Roundtable Discussion
To understand the manufacturing process in palm oil industry.

To understand the contributions of palm oil industry to the UN SDGs.

To identify the ESG challenges, opportunities and contributions from the Malaysian palm oil industry.

To provide a platform to exchange views and suggestions between the students and the professionals.
POPSIG Roundtable Discussion
Sharing Session
YBrs Professor Ir Dr Denny Ng shared about the integrated applications of resources to multiple industries, for example, biochar, polymer, biorefinery, mattress and paper sectors.
Mr Hee Chen Siang informed that the company has actively provided renewable energy solutions with less utilities to the industry. Innovative integration was important for levelling up energy efficiencies.
Mr Dennis Tang Boon Yong discussed that the company recycles waste oil and converts it to renewable fuel feedstock.
Professor DDr Lam Hon Loong showed the circular economy life cycle framework for palm oil industry. He explained the industry commitments, governmental policies, life cycle analysis, lean and green analyses.
Forum Engagement Session
The activity received active participation from the floor. The participants raised the issues related to circular economy, carbon offset, biochar, SAF, saturated fats, biofuel and fertiliser. The activity recorded a total of seven participants namely Peh Yong Xin, Choong Ming Jing, Andersson T'ng Khai Shern, Tan Chun Hau, Alvin Chok Chuin Wei, Lee Khai Jin and Ng Gay Syuen.
President's Address
President Saw Xukai was delighted to inform that IChemE Student Chapter Festival was organised both physically and virtually in 2023, after having been organised for three times. The event aimed to foster connections between students from different universities. He was delighted to see the participants from all over universities in Malaysia came together to achieve goals for chemical engineering community.
Director's Speech
The Director, Ms Ng Xin Tong expressed her sincere gratitude to everyone who made the event a great success. She proudly said Day 1 of the event was filled with insightful simulation workshop, inspiring roundtable discussion session with POPSIG, fun-filled bonding session and intense idea presentation competition. Day 2 was continued with the interesting virtual factory tour and an enlightening industrial talk session. She hoped the participants could work together to create a more sustainable and innovative future for the field of chemical engineering. 
Document
View the summary (PDF) of the event.
View the event photos (PDF).
Forum Engagement Prizes
Congratulations to the winners during the forum engagement session. The report will be published in POPSIG Newsletter Issue 23 (2023).
Image
Group photo (1st left); participants of the forum (top right); panel discussion (bottom, 2nd right); presentation of tokens of appreciation to the panellists (bottom, 1st right).
Acknowledgement
POPSIG appreciated the organisation provided by IChemE-UM Student Chapter, IChemE-UCSI Student Chapter and IChemE Student Chapter Festival 2023 organising committee.
POPSIG gratefully acknowledges the support provided by Malaysian Palm Oil Council (MPOC) to POPSIG-MPOC Palm Oil Educational Roadshow.
---
Back to group news