Chemical engineering excellence recog...
Chemical engineering excellence recognised through IChemE medals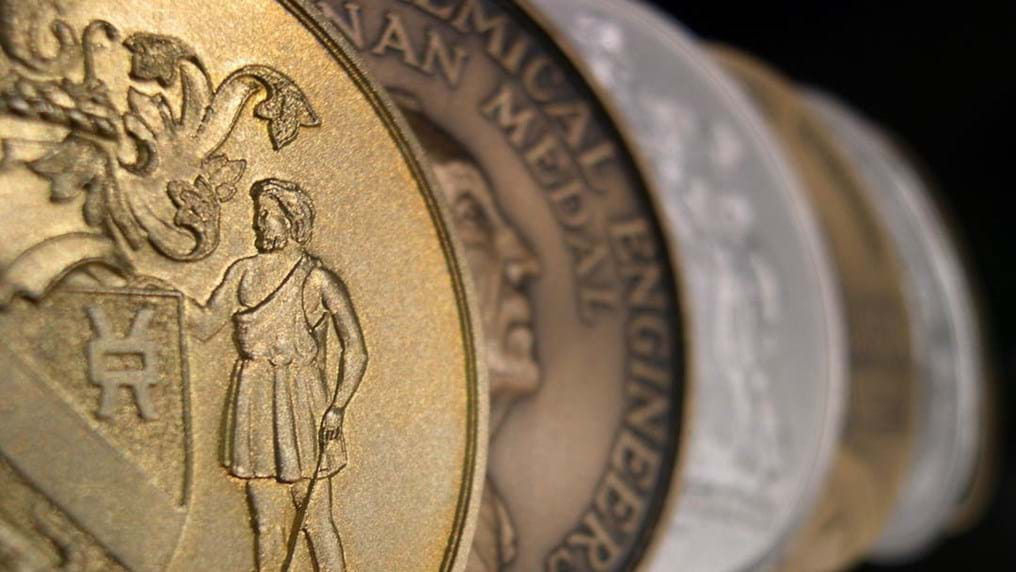 14th February 2022
An early career researcher, experts in food bioprocessing and a dedicated volunteer are among the 25 chemical engineers across 14 medals and prizes recognised by the Institution of Chemical Engineers (IChemE) for their exceptional contribution to the profession in industry and academia.
The list of 2022 prize winners has been announced by the Medals and Prizes Committee today (14 February).
The Medals and Prizes Committee were delighted to note that medals recognising achievements by early and mid-career chemical engineers such as the Junior Sargent, Junior Moulton and Nicklin medals all received a high number of nominations.
This year, IChemE awarded the Junior Sargent Medal for the first time, which recognises an early career engineer who has made a significant, recent contribution to research into computer-aided product and process engineering.
Fani Boukouvala was awarded the medal for her development of digital tools for the design and optimisation of multi-scale, complex systems using both data-driven concepts and traditional chemical engineering fundamentals.
In the senior category, this year's winner of the Sargent Medal was Larry Biegler.
Christopher Quarton and Sheila Samsatli were awarded the Junior Moulton Medal for their paper 'How to incentivise hydrogen energy technologies for net zero: Whole-system value chain optimisation of policy scenarios' as published in IChemE's Sustainable Production and Consumption journal.
This medal is awarded to the authors of the most meritorious paper published by IChemE during the last year and the committee were unanimous in naming the winners for their very topical paper.
The Nicklin Medal is an early careers award introduced in 2014 to recognise talented chemical engineering researchers. The award criteria stipulates that nominees must have no more than ten years postgraduate research experience and should have produced international quality research outputs.
This year, Dr Hannah Leese was awarded the medal for her ground-breaking work on developing technologies for early detection of disease, including sepsis and ovarian cancer.
The Senior Moulton Medal, awarded to the author, or authors, of the most meritorious paper published by IChemE during the last year, has been known to stimulate considerable debate amongst medal judges. However, this year the judges were unanimous on who should be awarded the medal as they were confident that their joint paper will become a key reference paper for particle-based modelling. Matt Sinnott, Simon Harrison and Paul Cleary received the Senior Moulton Medal for their paper 'A particle-based modelling approach to food processing operations' as published in IChemE's Food and Bioproducts Processing journal.
The Andrew Medal, awarded every three years for a major contribution to the science of the formulation of heterogeneous catalysts, was awarded to Junwang Tang, a leader in photocatalysis and electrocatalysis for sustainable processes.
The Trustees Medal recognises a volunteer who has given exceptional service to an IChemE project. In her previous capacity as Vice President Learned Society, Jarka Glassey was the driving force behind establishing the Learned Society Committee which provides strategic direction and priorities for IChemE's role as a learned society.
Alexandra Meldrum, IChemE Vice President Learned Society and Chair of the Medals and Prizes Committee, said:
"Our medals programme recognises the outstanding achievement of chemical engineers and the great work that IChemE members carry out through volunteer roles. A new initiative this year, is that the judging criteria consider sustainability, impact and alignment with progress toward a net-zero economy and the UN Sustainable Development Goals. Our winners are great leaders and role models in the chemical engineering profession. Congratulations to all the winners!"
The medal winners will be awarded their prizes during virtual webinars taking place throughout the year and these will be advertised on the IChemE website www.icheme.org/medals.
Links
Full list of IChemE's 2022 Medals and Prizes winners
Contacts
For more information please contact:
Lucy Cook, Communications Manager, IChemE
t: +44 (0) 1788 534454
e: lcook@icheme.org
Rachael Fraser, Communications Executive, IChemE
t: +44 (0) 1788 534435
e: rfraser@icheme.org
Claire Shepherd, Communications Executive, IChemE
t: +44 (0) 1788 534457
e: cshepherd@icheme.org
What is chemical engineering?
Chemical, biochemical and process engineering is the application of science, maths and economics in the process of turning raw materials into everyday, and more specialist, products. Professional chemical engineers design, construct and manage process operations all over the world. Oil and gas, pharmaceuticals, food and drink, synthetic fibres and clean drinking water are just some of the products where chemical engineering plays a central role.
IChemE
The Institution of Chemical Engineers (IChemE) advances chemical engineering's contribution worldwide for the benefit of society. We support the development of chemical engineering professionals and provide connections to a powerful network of over 30,000 members in more than 100 countries. 
We support our members in applying their expertise and experience to make an influential contribution to solving major global challenges, and are the only organisation permitted to award Chartered Chemical Engineer status and Professional Process Safety Engineer registration.