HRH Tuanku Zara Salim presents Awards...
HRH Tuanku Zara Salim presents Awards to outstanding young chemical engineers in Malaysia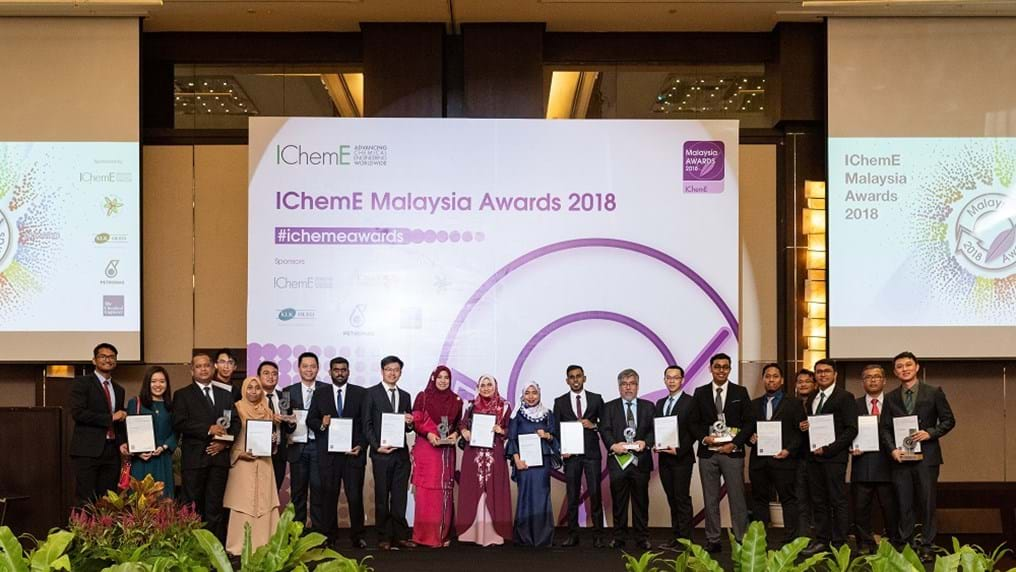 16th October 2018
Her Royal Highness Queen of Perak Darul Ridzuan, Tuanku Zara Salim presented two promising chemical engineers with trophies at the Institution of Chemical Engineers (IChemE) Malaysia Awards yesterday. The ceremony, which took place at the InterContinental Kuala Lumpur, is held annually to celebrate the achievements of chemical engineers in Malaysia.
Tuanku is the Royal Patron of IChemE in Malaysia, and, as a chemical engineer herself, a passionate advocate of the profession. She presented Sime Darby Plantation's Chew Chien Lye (also known as Mervin) the Young Industrialist Award. His outstanding work in process improvement has boosted profits, while reducing energy and wastewater at the organisation.
Ong Wee Jun also received his Award, for Young Researcher, from Her Royal Highness. The newly-appointed Assistant Professor at the Department of Chemical Engineering, Xiamen University Malaysia, had a breakthrough in his research this year. He successfully mimicked the photosynthesis process in plants by engineering a photocatalyst that can use solar light to split water and reduce carbon dioxide into energy-rich fuels.
Malaysia's major oil and gas company PETRONAS scooped three wins and two-runner up prizes.
PETRONAS Penapisan (Terengganu) Sdn Bhd won the Process Safety Award for establishing a safety framework that eliminates potential failures of overfill protection systems in its refineries. The framework drew on lessons learnt from incidents such as the 2005 Buncefield fire in Hertfordshire, UK and the 2009 Catano oil refinery fire which left three people injured in Bayamon, Puerto Rico.
Later in the evening, PETRONAS Research Sdn Bhd went on to win the Sustainability Award for its PN2 Membrane for Fuel Gas Conditioning. The Training & Development Award went to PETRONAS Chemicals Ammonia Sdn Bhd for its process safety training programme PCASB Process Safety 3Sixty (PS3Sixty).
This year, a new prize entitled the Student Chapter Award went to Universiti Teknologi PETRONAS (UTP). In 2002, it became the first IChemE Student Chapter in Malaysia with a strong track record of research development and commercialisation programmes.
The Oil & Gas Award was won by NGL Tech Sdn Bhd and Vestigo Petroleum Sdn Bhd. The company's Low Pressure Condensate Recovery System (LP-CRS) was commended by the judges for being the only technology on the market that effectively extracts valuable hydrocarbon condensates from a very low-pressure gas, in a self-contained unit.
Meanwhile, IOI Edible Oils Sdn Bhd was presented with the Palm Oil Award for their project Heat Recovery Using Vent Economisers. Vent economisers are used to recover steam vapour in a dry fractionation plant to heat water. The project has saved 50% on steam heating costs.
Ir. Dr. Christina Phang, Chair of the IChemE Malaysia Board, welcomed everyone to the sixth Malaysia Awards. She said:
"Congratulations to all the winners of the IChemE Malaysia Awards 2018. Each year I'm encouraged by the growing support and interest from the chemical engineering community demonstrated by the high-quality entries we receive, the number of guests we host, and the generous support of our corporate sponsors.
"The IChemE Malaysia Awards provide a unique opportunity to celebrate the fantastic contribution of local chemical and process engineers, all who have demonstrated a commitment to the highest level of professional standards in their innovative and excellent work throughout Malaysia.
"This year we celebrate 12 years of IChemE in Malaysia and I thank all our members for being an integral part of our journey to this milestone. We are extremely honoured that Her Royal Highness Queen of Perak Darul Ridzuan, Tuanku Zara Salim has joined our celebrations and made them more special."
For more information, please visit www.icheme.org/malaysiaawards.
Links
Notes to Media
For more information please contact:
Tara Wilson, Head of Communications, IChemE
t: +44 (0) 1788 534454
e: twilson@icheme.org
Rachael Fraser, PR and Communications Executive, IChemE
t: +44 (0) 1788 534435
e: rfraser@icheme.org
What is chemical engineering?
Chemical, biochemical and process engineering is the application of science, maths and economics in the process of turning raw materials into everyday, and more specialist, products. Professional chemical engineers design, construct and manage process operations all over the world. Oil and gas, pharmaceuticals, food and drink, synthetic fibres and clean drinking water are just some of the products where chemical engineering plays a central role.
With an international membership exceeding 40,000 in around 100 countries, the Institution of Chemical Engineers (IChemE) aims to be the organisation of choice for chemical engineers. It promotes competence and a commitment to best practice, advances the discipline for the benefit of society and supports the professional development of its members.
IChemE is the only organisation to award Chartered Chemical Engineer and Professional Process Safety Engineer status.