Routes to professional registration
Routes to professional registration
You don't need to have several years of work experience and be working in a senior role to become professionally registered. Although becoming a Chartered Engineer is the goal that most engineers strive for, there are a variety of registrations relevant to those in the early stages of their career, including:
Each registration has its own eligibility requirements. Visit the registration pages for further details.
Chartered Engineer (CEng)
IChemE is licensed by the Engineering Council to award Chartered Engineer (CEng) registration to those who meet the requirements.
Our assessment standards for Chartered Member also satisfy the requirements for CEng registration which means that members can apply for both via a single application.
There are three stages to our Chartered Member/CEng application process: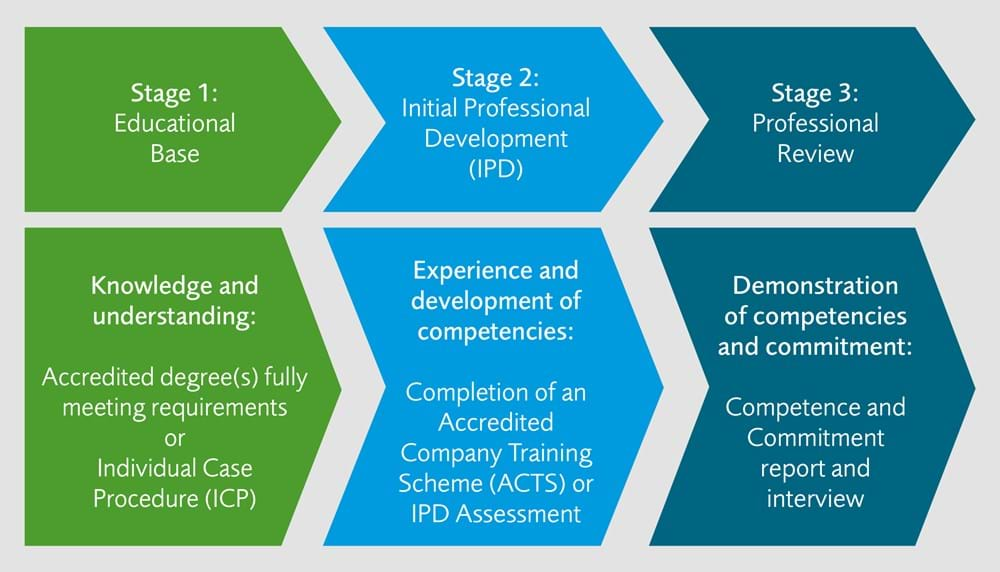 Stage 1 - Educational Base
Stage 1 determines whether you have the required knowledge and understanding. In basic terms - if you hold the necessary accredited qualifications you automatically meet the Stage 1 requirements and can proceed directly to Stage 2. But don't worry - if your qualifications are not accredited (or do not fully meet the requirements) they can be assessed via our Individual Case Procedure (ICP) where our ICP reviewers will assess whether your qualifications and work experience meet the requirements.
For more information see Chartered Member Stage 1 – Educational Base for more information on the requirements, how to check the accreditation status of your qualifications, and what ICP involves.
Stage 2 - Initial Professional Development (IPD)
The second stage of our membership application process for Chartered membership is where you demonstrate that you have developed the necessary experience to satisfy IChemE's areas of competency. 
IPD is the period in your career when you start developing the skills and professional attitude for qualifying as a Chartered Member. It can take place through a structured graduate training scheme or it may be self-managed.
If you successfully complete an Accredited Company Training Scheme, you automatically meet the requirements for Stage 2. If you are self-managing/have self-managed your IPD, you will need to make an IPD submission to determine if you have met the requirements.
See Chartered Member Stage 2 – Initial Professional Development for more info.
Stage 3 - Professional Review
Once you have completed stages and 1 and 2, and if you're working in a position of professional responsibility, you can proceed to the third and final stage which has two components:
a review of documentary evidence (ie a completed Competence and Commitment (C&C) Report), and
an interview.
You must have fulfilled the criteria for Stages 1 and 2 before you can start on Stage 3. For more information, including comprehensive guidance and a C&C report template, see Chartered Member Stage 3 – Professional Review.